Can CBD Oil Be Used to Treat Epilepsy?

Can CBD Oil Be Used to Treat Epilepsy?
Cannabis is one of the most widely used recreational drugs worldwide. It comes in many variations that have been used both for medicinal purposes e.g. in the treatment or management of various diseases, as well for recreational purposes to achieve a 'high'.
Recently, Canada became the first major western country to legalise marijuana/cannabis for recreational and medicinal usage and cultivation.
The United Kingdom has now made exceptions for the use of medicinal cannabis in the treatment of severe epilepsy, chemotherapy-related illness and multiple sclerosis (MS), while still retaining Class B illegal status for its recreational usage (possession and distribution).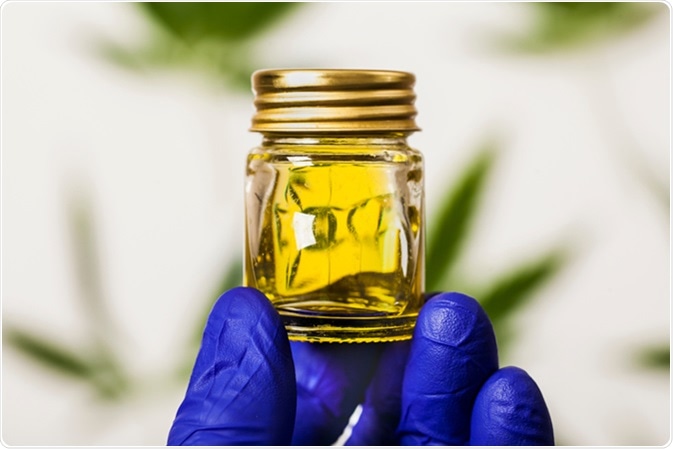 Cannabis CBD oil - Image Credit: ElRoi / Shutterstock
What is CBD oil?
Medical cannabis is often sold as cannabidiol (CBD) oil. It is a major cannabinoid derived from marijuana plants. However, CBD oil does not usually contain any tetrahydrocannabinol (THC) which is the main psychoactive substance of cannabis.
Can CBD oil treat epilepsy?
CBD oil reportedly has many health benefits; however, the strongest evidence thus far is for the treatment of epilepsy.
The earliest evidence that compounds within cannabis could be used as anticonvulsants (seizure-treating drugs) came from animal studies in the 1970s. Both THC and CBD oils were tested, with both shown to possess strong anticonvulsant properties in mice.
Early experiments showed that the seizure activity threshold may in part be mediated by the endocannabinoid system (receptors for cannabinoids), with THC apparently reducing seizure threshold by almost 100%.
Furthermore, animal studies show that endocannabinoid production increases in addition to the overexpression of cannabinoid receptors (CB1) to compensate for the excitotoxic effects of enhanced glutamate activity.
It was not until the late 1990s and the early-2000s that specific case studies looking at the effect of THC/CBD on epilepsy were carried out. Due to the psychoactive nature of THC, the focus shifted to CBD.
For example, 'Project CBD' gained much public and media attention with many positive stories of individual cases of epilepsy treatment being treated with CBD oil, as well as its use in managing Dravet syndrome.
More recently, standardized control studies using CBD in the treatment of epilepsy were initiated. For instance, one preparation of CBD oil, currently in phase III clinical trials has proven effective in the treatment of epilepsy (with up to 55% reduction in seizures), and has received FDA regulatory approval in the US on June 2018.
Some evidence also suggests that the dosage of CBD oil can be lowered if it is used in combination with THC oil. Cannabidiolic acid (CBDA) also has anti-seizure activity through a different mechanism, as it binds to serotonin receptors (5-HT1A) 100-fold compared to CBD oil alone.
Summary
It is now plain that cannabis has many proven beneficial effects on health, in particular in the treatment and management of epilepsy and seizure-like activity. This is reflected in the UK government's decision to allow the usage of CBD oil for such purposes, despite its recreational use retaining Class B status.
While CBD oil alone does not produce the psychoactive results of cannabis, THC does, and needs to be administered carefully and in a controlled way for effective use.
Unfortunately, as long as cannabis remains a controlled drug under most international laws, research is hampered and the stigma associated with it remains. It is an encouraging sign in the UK that the usage of medicinal CBD oil has now been allowed for the most severe cases of epilepsy.
The law needs to move to full decriminalization (to allow the usage of THC and CBDA oils) and encourage investment in medical research of cannabis in neurological conditions.
Further Reading
Last Updated: Jan 23, 2019