African American Disparities in Low-Grade Prostate Cancer Death - National Cancer Institute
African American Men More Likely to Die from Low-Grade Prostate Cancer
January 28, 2019, by NCI Staff
This body of evidence, Dr. Huang added, supports the idea that certain biological factors may make low-grade prostate cancer more likely to grow and spread in African American men than in men of other races.
Do Prostate Cancer Disparities Differ by Grade?
Compared with white men, African American men are more likely to develop prostate cancer and are twice as likely to die from the disease.
But, before Dr. Huang's study, it wasn't clear if the disparity in prostate cancer death occurred equally across all disease grades or if it occurred mainly in one grade, he said.
"It was a question that we were surprised hadn't really been addressed," he added.
Active surveillance is one of several options for the management of localized low-grade prostate cancer, as is immediate treatment with surgery or radiation. Each individual patient and his doctor should make that decision together, Dr. Huang explained.
The specialized SEER database also includes information on socioeconomic status—a measurement of a person's income, education, and occupation. Socioeconomic differences can lead to health disparities such as access to treatment.
These data allowed the researchers to partially control for socioeconomic differences so that they could better observe possible associations between death rate and race/ethnicity. Their analysis doesn't rule socioeconomic differences out entirely as an explanation for prostate cancer disparities, but it does do a better job than was previously possible, Dr. Huang said.
A Surprising Finding about Low-Grade Disease
Overall, few men in the specialized SEER database died from prostate cancer, they found. But there were differences by grade and race.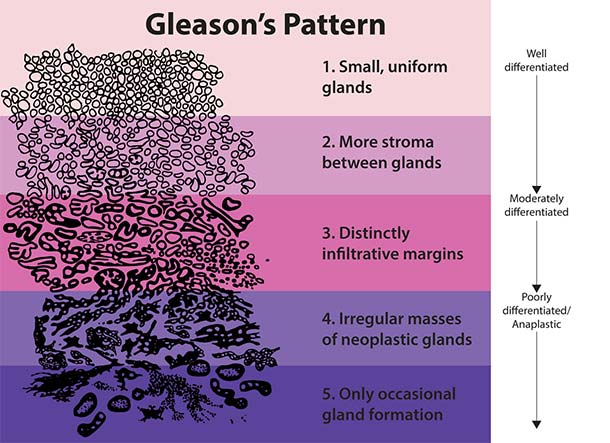 The investigators found similar results when they analyzed data from the main SEER database, which includes information on more than 400,000 men with prostate cancer who were followed for a median of more than 5 years.
In that analysis, a greater proportion of African American men than men of other races had died from low-grade prostate cancer 12 years after diagnosis (2.2% versus 1.4%). By comparison, the 12-year death rate from higher-grade prostate cancer was similar among African American men and men of other races (5.5% versus 5.3%).
"We were surprised to find that disparities were greatest in low-grade disease," Dr. Huang noted, because they had expected it to be similar across all grades.
Exploring Differences in Tumor Genomics
There may be variables that make low-grade prostate cancer grow and spread more quickly in African American men than in men of other races, but those features have yet to be defined and understood, Dr. Huang said.
In that study, more African American men with low-grade prostate cancer had tumor genomic characteristics linked to metastasis than white men. However, the researchers found that estimates of metastasis risk were similar among men with high-grade disease, regardless of race.
These findings suggest that differences in tumor genomics may make low-grade prostate cancer more aggressive in African American men, Dr. Huang explained.
Differences in Tumor Location
Another possibility is that traditional biopsies may be more likely to miss areas of high-grade prostate cancer in African American men than in men of other racial/ethnic groups, leading to a higher likelihood of misdiagnosis of low-grade disease.
And at a follow-up biopsy or surgery, more African American men than men of other races are given a higher Gleason score than they were initially diagnosed with—what's called upgrading.
"Anterior lesions can be picked up by image-guided biopsy much better than by standard biopsy," Dr. Parnes noted. So, image-guided biopsies may help physicians catch high-grade prostate tumors in African American men.
The Bottom Line for African American Men
Because low-grade prostate cancer has more aggressive features in African Americans, many physicians have questioned whether active surveillance is still an appropriate option for them.
However, these findings should be part of the conversation between patients and their doctors, Dr. Parnes said.