Choosing the Right Toothbrush | Soft vs. Hard Bristles

Choosing the Right Toothbrush | Soft vs. Hard Bristles
Toothbrushes are an essential part of good oral hygiene. There are a wide range of toothbrushes on the market today, and this article examines the factors to consider when choosing a new toothbrush.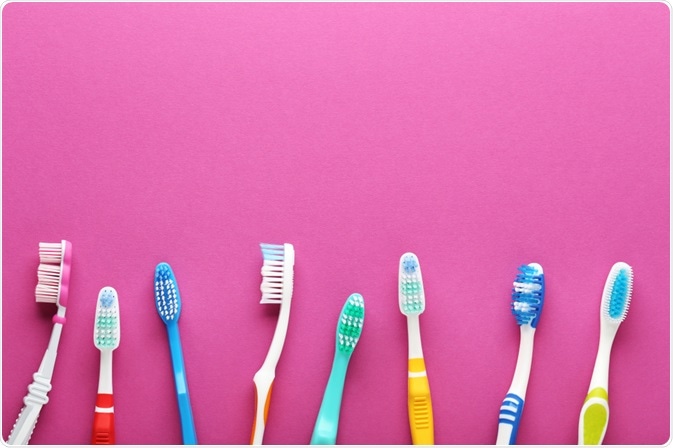 5 Second Studio | Shutterstock
History of the toothbrush
Modern nylon bristle toothbrushes were first developed in 1938. However, early civilizations used slender twigs with tattered ends to brush teeth. The use of these "chew stick" started during 3000 B.C and these twigs were used like the bristles of modern day toothbrush.
During 1498, toothbrushes resembling those used today were developed in China. Bristles in these toothbrushes were prepared from coarse hairs derived the back of a hog's neck and were fixed to handles made of bone or bamboo.
Until 1938 boar bristles were popular; however, the nylon bristles were first introduced by Dupont de Nemours and the first nylon tooth brush was named as Doctor West's Miracle Toothbrush. Since that time, many advances have been made to toothbrushes, the most recent of which was the development of the electric toothbrush.
Which toothbrush is recommended most by dentists?
Even though soft, extra soft, medium, and hard bristled toothbrushes are readily available, dentists mostly recommend toothbrushes with soft or at times with extra soft bristles. A soft bristled toothbrush poses minimal threat to the oral tissues and at the same time serves the purpose of gentle and appropriate cleaning of the teeth.
Many dentists also recommend electric toothbrushes. The motor of an electric toothbrush allows finer tooth cleaning with minimal pressure and damage to teeth and other oral tissues.
How do hard bristles affect dental health?
Some individuals prefer using a hard bristled toothbrush primarily because of the belief that brushing with hard bristled toothbrush has a better cleansing action and plaque removal capability. However, various clinical studies have highlighted many potential adverse effects of using a hard-bristled toothbrush.
Tooth abrasion is one such adverse effect that leads to an irreversible loss of tooth structure. Studies indicate that using toothpaste with highly abrasive agents in combination with hard bristled toothbrushes accelerates the process of tooth loss. Other predisposing factors include the intensity and frequency of tooth brushing.
A study conducted on 159 persons over one year showed that bristle hardness is a major predisposing factors for gingival recession (receding gums) that causes permanent damage. Research conducted over the past decade on the usage hard bristled toothbrush clearly indicates that the risks outweigh the benefits of using a hard bristled toothbrush.
How can the design of a toothbrush reduce the risk of contamination?
Bristles of a toothbrush can easily host of various microbes – aerobic as well as anaerobic. These microorganisms can further cause various diseases, especially in hospital settings where the toothbrush is commonly used by nurses for oral care. Pathogens, once entrapped in bristles, can cause various nosocomial infections.
Bunetel and colleagues first identified that disease-causing microbes become trapped in the bristles of a toothbrush. It was demonstrated that the design of the toothbrush is one of the factor which determines the bacterial contamination. Later research indicates that toothbrushes with solid handles and smaller surface areas minimize bacterial growth.
Further, it was also identified that toothbrushes which had closely knit bristles allowed maximal bacterial growth. These studies concluded that toothbrush contamination was found minimal in toothbrushes which had soft, round, widely spaced and only two bristled rows.
Other factors to consider when brushing your teeth
Shape - One crucial factor while selecting a toothbrush should be the shape of a toothbrush. Basically, the handle of a toothbrush should be a little stretchy and easy to maneuver. Easy handling of the toothbrush will provide better access to all the areas of the oral cavity. This allows a finer cleaning of even the posterior regions of the mouth. A flexible handle also serves the function of minimal damage to the oral tissues, as it can be moved easily to avoid excessive trauma during brushing.
Frequency and intensity - Even though soft and extra soft bristles cause minimal damage to the oral tissues and teeth, it is important to note that a vigorous and hard brushing, even with a soft brush can have a devastating effect on teeth. Brushing with high intensity and frequency using any type of toothbrush can remove the outer layer of teeth and may predispose teeth to various conditions like caries.
Sources
Further Reading
Last Updated: Jan 2, 2019