mTOR inhibitors in the pharmacologic management of tuberous sclerosis complex and their potential role in other rare neurodevelopmental disorders | Orphanet Journal of Rare Diseases | Full Text
Orphanet Journal of Rare Diseases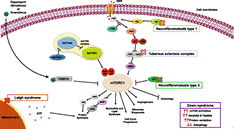 mTOR inhibitors in the pharmacologic management of tuberous sclerosis complex and their potential role in other rare neurodevelopmental disorders
Orphanet Journal of Rare Diseases
2017
12

:51
DOI:
10.1186/s13023-017-0596-2
Received: 30 November 2016
Accepted: 14 February 2017
Published: 14 March 2017
Abstract
Tuberous sclerosis complex (TSC) is a rare autosomal dominant genetic disorder that affects multiple organ systems throughout the body. Dysregulation of the mammalian target of rapamycin (mTOR) pathway is implicated in the disease pathology, and evidence exists to support the use of mTOR inhibitors in treatment. The mTOR pathway has also been investigated as a potential treatment target for several other rare diseases. TSC research has highlighted the value of pursuing targeted therapies based on underlying molecular pathophysiology. One goal of current research is to identify the role of mTOR inhibition in neurologic and developmental disorders apart from TSC. There is also particular interest in the potential role of mTOR inhibitors in preventing seizures, neurodevelopmental disabilities, renal tumors, cutaneous tumors, and other manifestations typically seen in TSC. It is foreseeable that use of mTOR inhibition to prevent long-term morbidity in TSC will become mainstream therapeutic practice. This review will provide an overview of the relationship between the mTOR pathway and TSC disease pathology, summarize the clinical evidence supporting the use of mTOR inhibitors for treatment of the various manifestations of TSC, and discuss the potential therapeutic role of mTOR inhibitors in several rare diseases.
Keywords
Hamartomas
Morbidity
Mammalian target of rapamycin inhibitors
Neurologic manifestations
Tuberous sclerosis complex